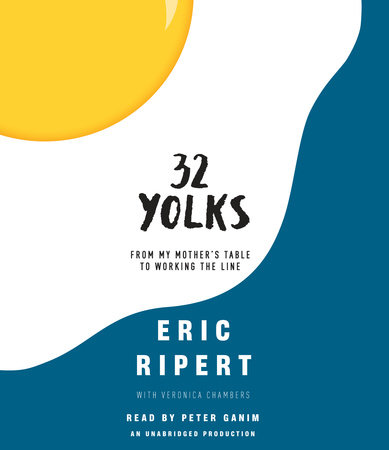 32 Yolks: From My Mother's Table to Working the Line
Cooking
Random House Trade Paperbacks
March 21, 2017
paperback
256

I have read recently a whole series of celebrity chefs autobiographies. Encouraged by Anthony Bourdin's "Kitchen Confidential", Marcus Samuelson's "Yes, Chef!" and Gabrielle Hamilton's "Blood, Bones and Butter", I reached for Eric Ripert's "32 yolks: From My Mother's Table to Working the Line" with great confidence. I was ready to learn about his story to become a chef. Unfortunately, in the case of this book, it was largely a disappointment.
First third of the book focuses solely on Eric Ripert's miserable childhood in Southern France, between divorced parents, bully stepfather and grandparents - and great tragedy of premature death of the father. While providing a lot of personal background, hardly any of this talks about food and cooking! It does not feel to me like any of those stories, as moving as they are, influenced much of Ripert's career as a chef.
Luckily, it gets better around chapter 10 or so. Finally, when the anecdotes from culinary school pour in, it gets really entertaining. And it becomes about food! Then there are stories of hard work on the line in La Tour d'Argent and Jamain restaurants, summer vacation on the farm, cooking with fresh, local ingredients.... and when you are ready for a big adventure oversees and a start of great career... the book ends. Right at the point Eric Ripert boards the plane to go to take job at Watergate Hotel's restaurant of Jean Louis Palladin. Why?
Perhaps "32 yolks" is just not what I was expecting, compared to other chefs stories. For celebrity chef autobiography, it misses much of the food, for coming-of-age book, it misses depth and reflection.
I have received a free copy of the book for the purpose of this review from Blogging for books. The links in this post may contain affiliate codes.