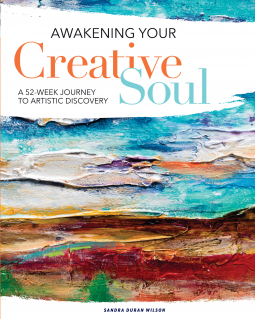 Awakening Your Creative Soul: A 52-Week Journey to Artistic Discovery
Arts, Crafts & Hobbies
North Light Books
October 17, 2018
paperback
624


"Awakening Your Creative Soul: A 52-Week Journey to Artistic Discovery" by Sandra Duran Wilson is partially an inspiration, partially step by step mixed media book. Sometimes it is hard for me to distinguish where you should follow your own concepts when even the paint colors are names in the details section, and when you should go on your own, exploring own creativity and values.
Beautifully illustrated with the author's example arts, the book is deeply personal and encourages travel down your soul while working on the visual art projects. In fact, one of the projects evolves around a piece of the music, and how you do respond to it. The book is also a very spiritual one, although drawing equally from Native American as from India or other Eastern cultures. Its organization, weekly chapters grouped by the seasons, reflect concepts of Easter philosophy itself.
What I did not appreciate at first, but later realized is a part of the mix media art, is how many different suppliers are required to finish any of the projects. Papers, glues, paints, and this is just a beginning. And after you came back from the visit to the local art supplies store, you can also incorporate a number of items found around the house to create three-dimensional construction. At the same time, I recall at least one sculpture project.
I would recommend "Awakening Your Creative Soul to people wanting to explore visual arts on the more intimate, spiritual level.
I have received a free copy of the book for the purpose of this review from NetGalley. The links in this post contain affiliate code.