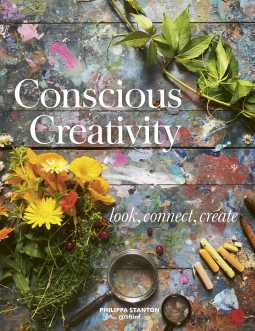 Conscious Creativity: Look. Connect. Create.
Leaping Hare Press
December 4, 2018
paperback
160


In a very short time, I read ""Conscious Creativity: Look. Connect. Create." by Philippa Stanton and "Awakening Your Creative Soul: A 52-Week Journey to Artistic Discovery" by Sandra Duran Wilson. The two books, while on surface talk about the same thing, could not be any more different.
"Conscious Creativity" is far more general in terms of the target art you want to develop and practice. In fact, it does not talk about the act of artistic creation at all - it is what you do in your "other time". And while many exercises use photography to document (and the book is full of great photography), I would not necessarily limit the book audience just to photographers. The exercises are designed to make you look, see and make sense of the world around. There is no step by step instructions, just ideas, and assignments. There are simple observation tasks, doing, like collage or photography, or even hearing - making it applicable to all arts, is it music or writing or visual arts.
I myself started to incorporate the exercises into my daily life. For example, instead of picking up a phone the moment I have nothing to do, I select the first color I lay my eyes on and then scan my surroundings for other objects of the color. Surprisingly, if I go around a few more times, each time I discover more and more! Clearly, I have a long way to go to get my observation skills up to speed.
"Conscious Creativity" is beautifully illustrated book with color photographs and could serve as a coffee table book (if it was not published as the paperback). And some of the photos were clearly taken with an iPhone, showing you that you do not need any special tools to do the assignments in the book, just set out to follow the instruction.
"Conscious Creativity" is simply a great gift ideas for a creative (or aspiring to be a creative) person in your life.
I have received a free copy of the book for the purpose of this review from NetGalley. The links in this post contain affiliate code.