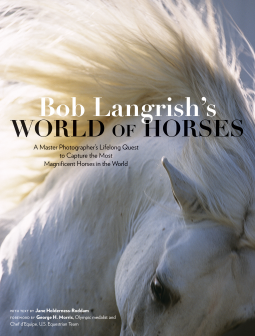 Bob Langrish's World of Horses
Photography
Storey Publishing, LLC
02 Oct 2018
hardcover
208

Bob Langrish is a well known British equine photographer. His website mentions numerous books, one notable for me was the "Smithsonian Handbook: Horses" by Elwyn Hartley Edwards. So when I reached for "Bob Langrish's World of Horses" by Jane Holderness-Roddam, I expected a coffee table book, double-page spreads, and variety of shots from tight close ups to sweeping environmental protraits.
The book met only some of those expectations. First, it is for sure not a coffee table book. It is also not purely a photography book. Coming as a result of long, 40 years lasting career as an equine photographer, "Bob Langrish's World of Horses", the book is full of stories - of horses, travel to take pictures of those beautiful animals or anecdotes behind the photographs themselves. However, the words were not written by a photographer himself, they were relayed by another person. It is fairly unusual nowadays, for modern photographers, and takes away from the book experience for me.
The images are organized, interestingly, around environments in which the photograph was taken (chapters like rivers, forests or savannas). It shows wild and domesticated animals alike. There are also maps on each page showing the locations where the photographs were taken, and while they indeed seem to be encompassing the whole globe, the majority is taken in UK, USA, and France.
While the photographs are amazing, I was extremely disappointed by the size of them. The book is more like a family trip photo book, with many smaller pictures crammed on pages. Another huge disappointment, the pre-print digital version I received had not been color corrected. I am attaching a couple of example pages from the book, with a disclaimer - hope the final version has real colors!
I wish the "Bob Langrish's World of Horses" was designed to do the justice to the photographs it presents. But perhaps the images are enough for true horse lovers.
I have received a free copy of the book for the purpose of this review from NetGalley. The links in this post contain affiliate code.
Click on any example book spread to see a larger version.