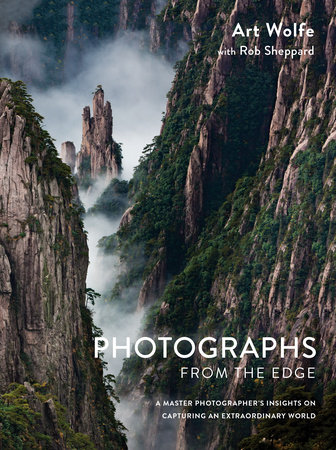 Photographs from the Edge: A Master Photographer's Insights on Capturing an Extraordinary World
photography
Amphoto Books
September 20, 2016
hardcover
288

I have admired Art Wolfe and his photographs for a long time. He is one of the kind - a pre-Internet (before Flickr, 500px and Google Plus) photographer who build very successful, independent career. While his work was published in well known magazines, he never was affiliated with Life or National Geographic or others. On top of that, he has very strong background in visual arts, which helped him create strong compositions with focus on color contrast, pattern and texture. His images are just stunning.
"Photographs from the Edge: A Master Photographer's Insights on Capturing an Extraordinary World"
is a summary of almost four decades of Art Wolfe careers. And the book is so much more a coffee-table style collection of beautiful photographs. Each image is accompanied by the story. In fact, there is a photographer story, telling something about unusual location, and other circumstances surrounding the image, sometimes related to photographic process itself. There are also two smaller tidbits, written by co-author and acclaimed photographer himself, Rob Sheppard. One is  "The nature of the photo" providing a bit more cultural or geographical context. The second one, the "Photo tip" - is short lesson in photography, with advice on things like light, filters, use of shutter speed and similar. Sometimes, when you read all the text in sequence, those short tips seem to break the flow of the book, though, I oftentimes found them distracting and overly simple.
One of the very first advice a new photographer gets when he asks how to improve on his photography is to study the photographs of the masters. It seems like 
"Photographs from the Edge"
is the perfect book for the task - and it comes with cheat sheets in forms of stories and insights. I would recommend it for every aspiring nature and travel photographer, for learning and for pleasure.

I have received a free copy of the book for the purpose of this review from Blogging for books. The links in this post may contain affiliate codes.