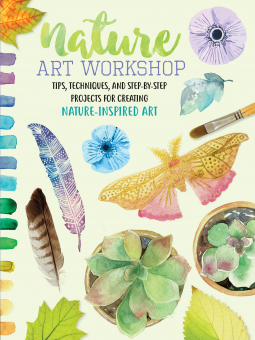 Nature Art Workshop: Tips, techniques, and step-by-step projects for creating nature-inspired art
Arts, Crafts & Hobbies
Walter Foster Publishing
September 18, 2018
paperback
128

I spend a lot of time outdoors - it is my favorite way of relaxing. I simply go for a walk, perhaps take my camera and do some photography on my way. When I picked up "Nature Art Workshop", I got excited about a possibility of finding another creative outlet relating to my time outdoors, allowing me to preserve some of my experiences for the days when the weather or other activities keep me indoors.
The projects in "Nature Art Workshop" are of great variety. They are either based on collected items: stones, feathers, petals etc. or are only nature-inspired. Or are a combination of both. They vary in their difficulty. Some consist of simply arranging objects like shells or flowers, on the surface to create a display or a unique centerpiece. More elaborate involve painting on small surfaces like shells or wood slices. Although the step-by-step instruction allows following almost as paint-by-the-numbers.
Although wood carving is a more elaborate technique and not broadly known, the related projects take the disproportional amount of space in the book. The technique, tools, and other materials are described in detail. It caused a few of other projects not make it into the final book- but no worries, they can be downloaded separately, for free, on the book website.
The one thing I found missing from the book was some kind of Resources section. I could use a list of numerous art supplies used in proposed projects, like brushes, palettes, paint (what kind of paint? is there only one kind?). For beginners, who do not have the most basic art supplies at home, going to the art store can be a daunting and discouraging task. Another thing I found useful in similar books was a template section, allowing the more involved shapes to be copied, preferably at the correct scale. After all, not everybody can sketch even such a simple thing as a bunch of herbs.
While I can not wait for spring flowers to try some of the easy projects in "Nature Art Workshop", I am excited that I was reminded of simple roses made of colorful fallen leaves. I suppose many people are familiar with this one from their Social Media streams. I still cannot wait to do it again this year, following the steps in the book. Perhaps I will do another project with remaining leaves?
I have received a free copy of the book for the purpose of this review from NetGalley. The links in this post contain affiliate code.