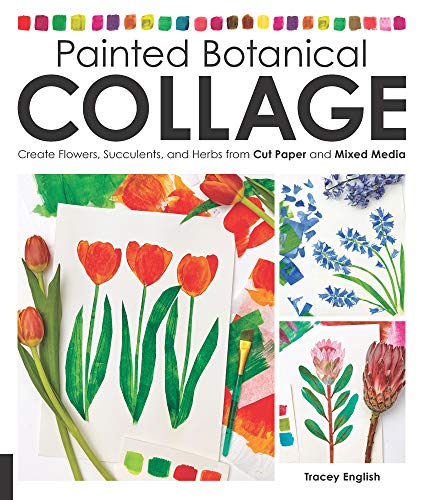 Painted Botanical Collage: Transforming Mixed-Media Papers into Cut Paper Blooms
Arts, Crafts & Hobbies
Quarry Books
October 16, 2018
paperback
96


"Painted Botanical Collage: Transforming Mixed-Media Papers into Cut Paper Blooms" by Tracey English is a small, colorful and fun to-do visual arts books. It encourages you to look at the plants around - and see how you can turn what you see into an evening project. Its sole purpose is to give you step by step instructions to build 33 collages representing single flower arrangements. The detailed tutorials are proceeded by a section on preparing the materials, most importantly the papers from which you then make the collage elements. While it feels a little bit like painting by the numbers at first, I appreciated the art when I actually tried to make one of the projects myself. And the projects shown in detail in the book are just a beginning, an inspiration to get out and find your own ideas to execute.
"Painted Botanical Collage" is beautifully illustrated, full of color and interesting shapes and forms. It is a really fun gift book for somebody who wants to do some simple, but rewarding art projects. Even if just wants to browse through.
I have received a free copy of the book for the purpose of this review from NetGalley. The links in this post contain affiliate code.